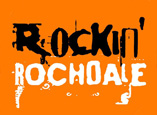 Rockin' Rochdale - a history of popular music
from Middleton to Milnrow !
Rockin' Rochdale opened in the Heritage gallery, Touchstones, Rochdale, Lancashire, on 22 October 2005 and ran until 23 April 2006.

The exhibition had an extensive range of musical memorabilia there there was the opportunity to listen to music from local bands and hear interviews with important contributors to Rochdale's musical heritage.
The - Fast Cars - Connection.
We recorded at Cargo Studios in Rochdale during 1978, the 2 tracks on "A Manchester Collection" (The album cover can been seen on the photo below, bottom left) were produced there along with Tameside Girls and Modern Day Romance (both on Coming ready or not) with engineering from John Brierley.

Our current album was recorded at "Studio Studio" in Whitworth, (just outside Rochdale) with engineer Pete Troughton from former Rochdale band "Civvy Street."
We played at the "Deeply Vale Festival 1979" which is featured in this wonderful exhibition.
Our name can be seen on "The wall of fame" in the photo, bottom right, also there is a photo of Stuart in Cargo Studios which is part of the video on the large screen in the exhibition!!.
Another photo below features "Guitar George" (mentioned in Sultans of Swing - Dire Straits) playing at one of the events at the exhibition, George Borowski was a guitarist in "The Out" who played with us several times.